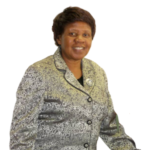 Howdy, Lillian Medupe-Mbhamali
About Me:
Ms. Lillian Medupe-Mbhamali  -  Wellness Coach
Experience:
. Trained for herbalism and nutrition at Nature's Choice in 1994 -  (S.A.)
. Opened and operated a health kiosk  -  eSwatini (then Swaziland)
. Had a half-page column to write articles on Wellness on Swazi Weekend Observer for two years.
. 5 years of experience working at the World Health Organisation (Swaziland) as secretary to the WHO Resident Representative.
. Secretary to assistant WHO Resident Representative in Botswana (temporal)
. Has experience as Health Director at Motswedi Seventh Day Adventist church.
. In Botswana I worked with Ark & Mark Trust on several occasions during rehabilitation camps at Motlhabaneng (Bobonong region).  
. Trained by MEET Ministry (Dr. Jackson)  -  U.S.A.Trained by Living light  -  U.S.A.
. Trained by Complete Health Improvement Programme (CHIP) - Australia
My work with Ark & Mark is usually to write a therapy menu for the campus for ten days.  I explain the benefit of every ingredient to the campus.  I teach them the eight laws of wellness also known by the acronym NEWSTART and make sure they apply them.  I mix the famous  "Stop Smoking Juice" that help the campus to recover quickly from withdrawal symptoms. The chief gave testimonies of how this programme has reformed members of his community.  The then Member of Parliament for Bobonong was amazed at the results of the programme.  Parents and family members also testify.  As a Wellness Coach, I have had the privilege of facilitating Wellness Programmes to different organisations.