Basics of Exceptional Customer Service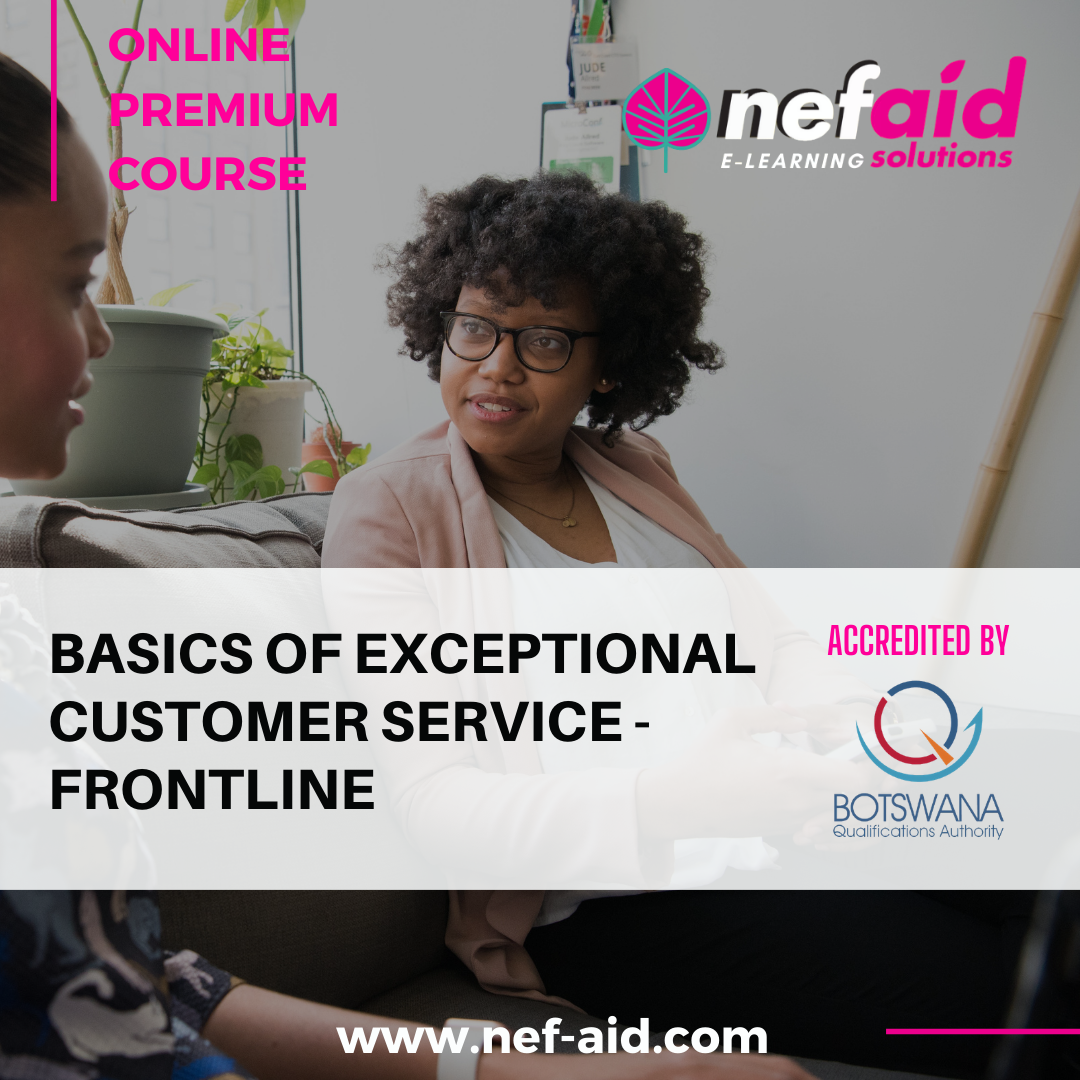 About Course
COURSE OVERVIEW
Companies who pay attention to their human capital and have a customer-centric approach will be the most successful in the near future.
Frontline employees are the core of your customer service. They represent your product, services, and brand to the customers and ultimately influence customers' satisfaction.
ABOUT COURSE
Our programme aims to sensitize employees on the value of customer service in day to day interactions with customers and set the tone for customer-centricity.  This helps employees to have a basic understanding of the importance of customer service in their roles of service.
Working with difficult customers, telephone skills, the customer value proposition and a customer-driven culture are some of the aspects covered during this training programme. It is important that all frontline staff within the organization take this programme since in a very real sense it is the frontline who produces the bottom line/profits.
Show More
What Will You Learn?
That hiring new employees and automatically assuming that they will know how to offer good customer service is a high-risk mistake that a lot of organizations make.

That in the eyes of the customer, the frontline staff essentially represents the organization/company. If a customer feels dissatisfied after dealing with one specific representative, chances are they will assume the entire organization is riddled with flaws.

That your frontline employees to a large extent affect not only your bottom-line profits but also the reputation of your organisation as they serve as brand ambassadors. In most instances, they may be the only point of contact that your customers experience your organization through and the impression they create will be what your company is known for.

Help frontline employees to have an appreciation and basic understanding of why customer service is critical for their personal development and successful business operations of their employers.

To understand the important role frontline employees play as the face of the company and brand ambassador.

How to deal with irate customers/guests and tough situations at work

The service worker attitudes that are essential in providing great customer service and Improve your interpersonal skills.

How to use positive language when speaking to customers.

Improve soft skills and general attitude towards serving others.

How to best serve customers and to develop a customer-first mindset as a frontline employee.
About the instructor
Course Curriculum
Module 1 – What is customer service and why should I care?
Module 1: Welcome and how to navigate the course

Introductory Message

Why should I care about customer care?

The cost of poor service is substantial

Defining Customer Service
Module 2 – Creating positive first impressions- Personal hygiene and Image as part of the customer care
Module 2: Introductory Message

First Impressions

Meeting and greeting

Personal Presentation
Module 3 – Emotional Intelligence and dealing with different characters (The 4 temperaments)
Module 3: Introductory Message

What is emotional intelligence?

Temparements

Choleric (FIRE) – Destructive Temperament (Extrovert leader)

Phlegmatic (WATER) – Peace Maker

Sanguine (AIR) – Extrovert Leader (Quick Tempered)

Melancholic (EARTH) – Introvert (Perfectionist)

Be a good observer of your customer's behavior

Why know your temperament?

What temperament do I have?
Module 4 – Service worker attitudes
Module 4: Introductory Message

What is an attitude?

Treat co workers and customers with respect

Do you have the right customer service attitude?
Module 5- Customer service tips for frontline retail
Module 5: Introductory Message

Tips for frontline -retail employees

Basic tips for tuckshop or semausu owners in Setswana (Handout Available)

Voice of the the customer – The Critical Component to Exceptional Service
Module 6 – Customer service tips- frontline corporate.
Module 6: Tips for frontline employees in the corporate sector

Basic Etiquette Rules of a Front Office Receptionist

Six Basic Customer Needs
Module 7 – How to handle irate customers and challenging customer situations
Module 7: Introductory Message

What not to do in problem situations:

Methods to cause less harm a in a difficult situation:

Tips for frontline staff to handle irate customers (Handout Available)
Module 8 – Telephone and email etiquette for frontline.
Module 8: What is business email etiquette?

Why do we need email etiquette?

Telephone etiquette

Customer Service: Points to remember
Module 9 – Empathy at the heart of customs care
Module 9: Introductory Message

What is empathy?

How to Use empathy Statements to win Customers

What is an empathy statement?

Phrases That Convey Empathy to Customers
Module 10 – Going the extra mile to wow your customers.
Module 10: The Customer/My Salary

What is "The wow Factor"?

Amaze your customers

Bring in the "WOW FACTOR" into your business

Take a VOW TO WOW

END OF COURSE

CLOSING REMARKS

END OF COURSE ASSESSMENT / QUIZ